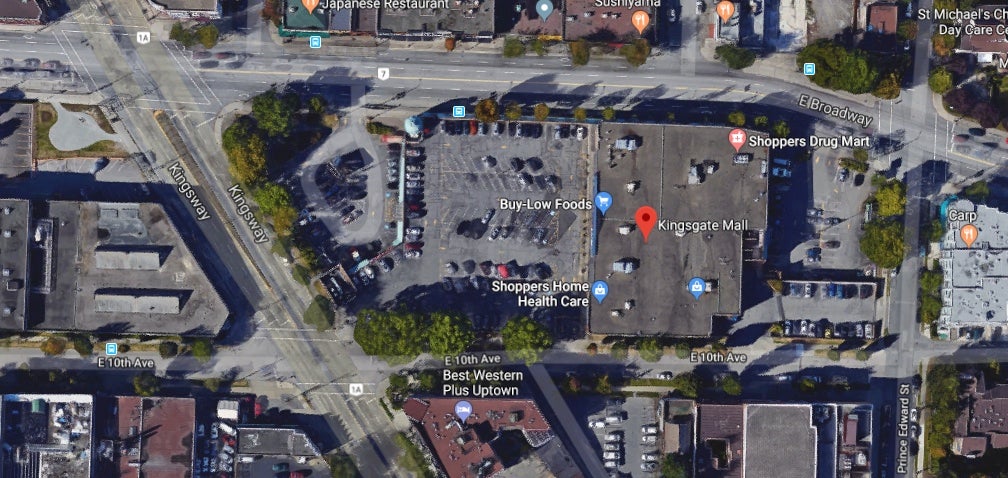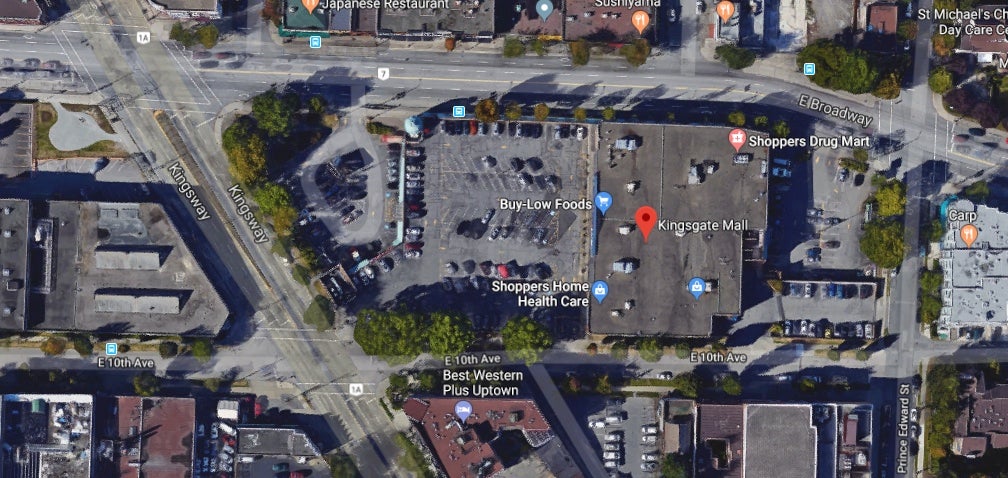 The potential exists, redevelopment of Kingsgate Mall is likely but the timeline is unknown. Redevelopment hinges on multiple factors including the formalization of the
Broadway Plan
to determine the extent of what can be built, and a unified decision from the land owners, Vancouver School Board, as to what type of sale or partnership they'd like to enter. 
Kingsgate mall holds a special place in the hearts of many East Vancouverites. Located between Broadway & 10th and Kingsway and Prince Edward St, it's a one-stop shop and includes one of the most affordable grocers in the area in Buy-Low Foods. It's clear to most though, that this is a heavily under-utilized property. When we look to the newer, more glamorous and densely populated neighbour - The Independent (285 E 10th Ave) which soars 21 stories and includes a new Nesters & Starbucks, it becomes difficult to argue the land should stay unchanged. 
With the incoming addition of the Main-Broadway Skytrain station
(
see previous post for more information here)
, Vancouver School Board recognizes opportunity for revenue without a flat-out sale. The land value looking to be ~$150M +. At this time, Vancouver School Board prefers to find ways to maximize revenue into the future, ensuring regular income to continue covering costs years down the road. We've seen similar strategies arise from the Squamish Nation in plans to redevelop the old Molson site at the south end of Burrard Bridge, on the
Senakw lands
, with much of the construction aimed at rental housing for future revenue.
The Kingsgate Mall property was a contentious issue in 2016 for the previous Liberal government, which wanted the VSB to sell the property to help cover the school district's operating costs. VSB trustees had refused to close and sell and this later resulted in the firing of the entire board of trustees.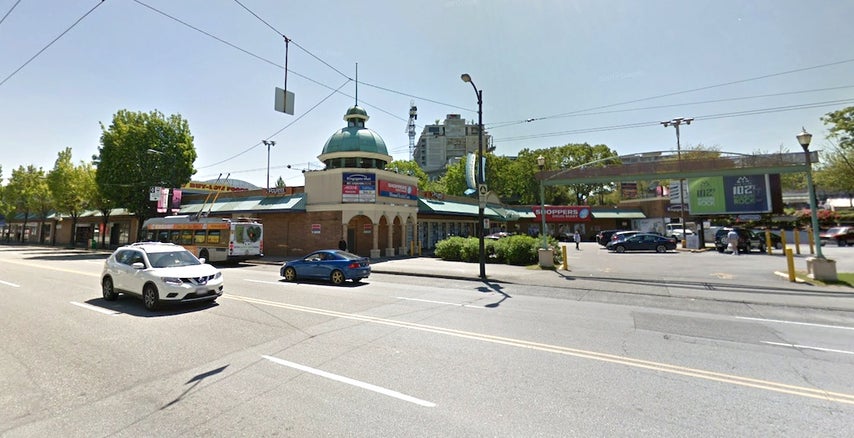 Most recent discussions have included thoughts to work with a Developer through a long-term lease, where the property could be redeveloped into a mixed-use complex with a podium that provides new replacement retail space. Ideas include two towers, with VSB occupying one tower for workforce housing, student housing, affordable housing and an adult education centre. With the new skytrain station just next door, this becomes even more attractive. Looking out for the community, VSB also has debated inclusion of a daycare, seniors centre, and medical and mental health support services. The second tower would be set aside for market sale use determined by the developer.
Beedie Group already holds a 99-year lease on Kingsgate Mall and have already been in discussions with VSB about potential re-negotiation which could include a redevelopment. This could be a great partner from a local developer, who are known for high quality in both industrial and residential construction.
VSB intends to include much community consultation as to what becomes included, recognizing it's a beloved location by locals. Ultimately the board still needs to work through discussions with Developer partners and work through zoning potential for the area before moving forward.
If you have any questions or comments on the information shared, 
reach out!
Chris Strand
chris@chrisstrand.ca
604.308.2344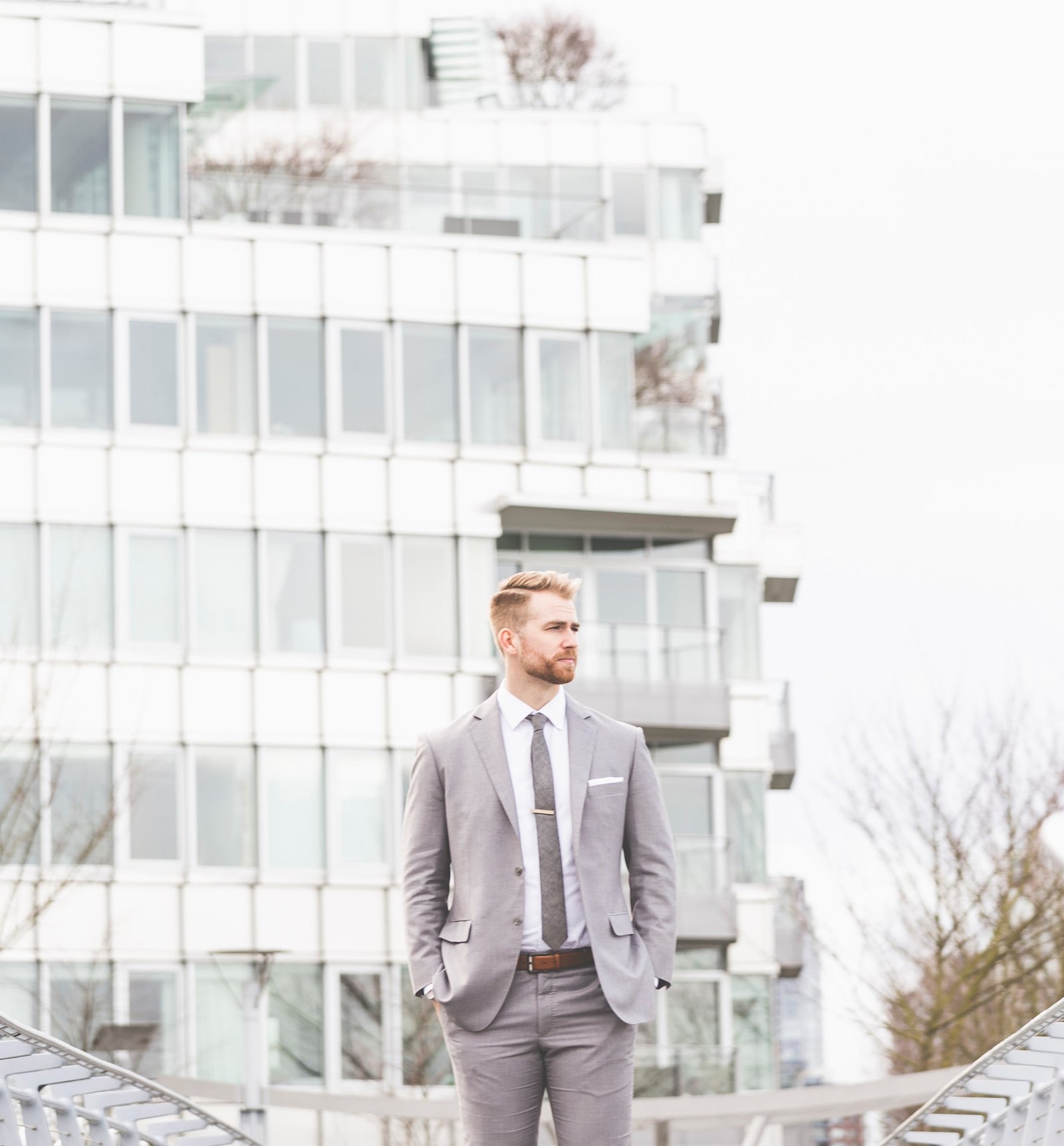 Chris is an award winning, East Vancouver Realtor with over 8 years of experience and a portfolio of over 800 homes sold across resale & new development.
Chris' successful career in real estate started in project sales, where he worked with local residential developers to market and sell new townhome and condominium buildings. His success in sales, paired with his natural ability to foster relationships stakeholders, allowed him to move into a management position as the Regional Sales Manager for one of Vancouver's top real estate sales and marketing firms. Chris worked with a portfolio of renowned developers to plan and execute sales and marketing strategies for residential developments across Greater Vancouver.
With an entrepreneurial craving to satisfy and a wealth of experience in hand, building a business to be proud of was a must. This led to joining forces with Oakwyn Realty, Vancouver's most innovative brokerage and the most organic alignment, where he helps home owners and buyers reach their goals.
Living on Commercial Drive and with deep community roots in Mount Pleasant, you'll find Chris most commonly running around the neighbourhood meeting clients or enjoying a beer and meal at one of the many loved breweries and restaurants. With a goal of matching great people with the great neighborhoods of East Van, Chris always welcomes an opportunity to meet new clients and friends.
Chris prides himself in his ability to navigate his way through any sale, making buying or selling homes a memorable and stress-free experience. Having experience negotiating the fine print on $100M+ residential developments, clients can feel confident in Chris' ability to find success in the purchase or sale of their future home.
With a wealth of experience in the industry and a passion for creating memorable experiences for his clients, Chris offers a full range of services to prospective home buyers and sellers as well as residential developers.