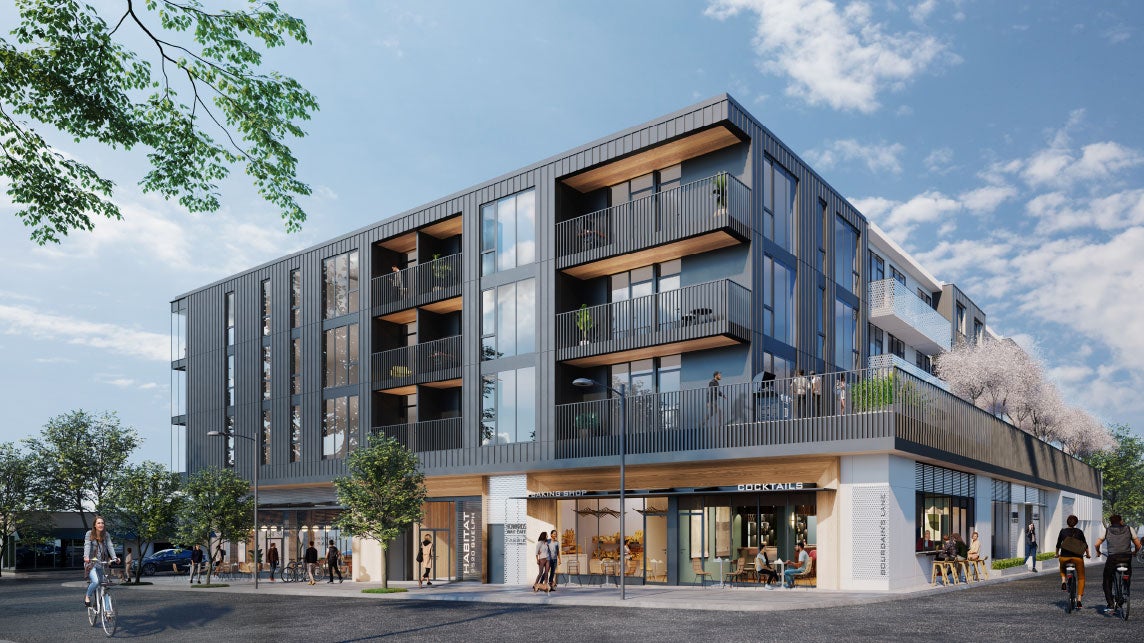 Today I took the opportunity to visit Habitat, a new 4 story condo building at Guelph & E Broadway (2520 Guelph St), built by a partnership of Porte Communities, Fabric & Houston. The new community will include 70 one, two and three bedroom condos & 9 retail shops. This looks to be a well fit addition to the neighbourhood, with great variety in home selection for East Vancouverites. Habitat is expected to arrive Spring 2023.
From all sides Habitat is community forward...literally...even the back laneway of the building will feature store-fronts or entryways for live-work studios. This, combined with the commercial spaces along E Broadway will bring a welcome supply of commercial space to the neighbourhood and help continue to build the walkability east of Main St. The developer's hope is to feature more of the 'Ma and Pa Shops' that Mount Pleasant is known for. 
With interior design by Christina Oberti Design, the aesthetic is modern and minimal. Home buyer's will choose between two clean, opposing and appropriately named, "Light" & "Dark" schemes. I'm strongly biased towards the Dark, but choose for yourself!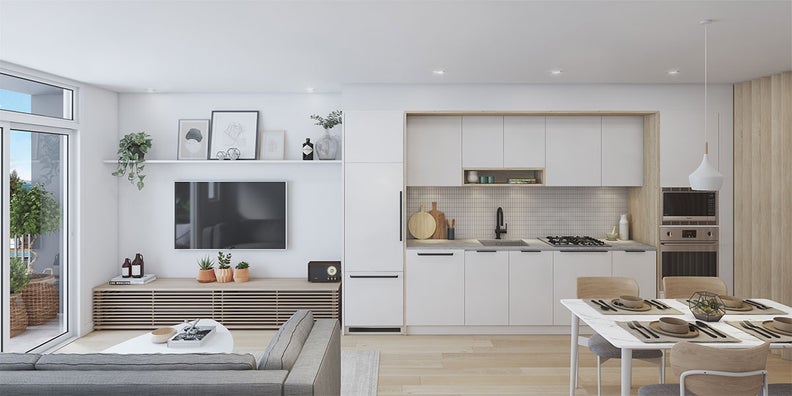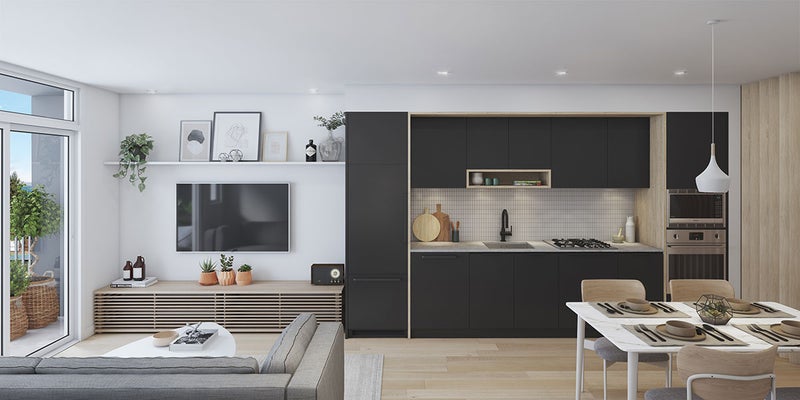 Looking to pricing, these homes are reasonable and have excellent promise of future value. 1 bed homes are available starting from the Mid $500,000's, while 2 and 3 beds will run you upwards of $800,000's - $1M+. We know that under the
Broadway Plan
a future skytrain station will neighbour Habitat, being just a 3 minute walk down the road. For more info on this,
check out one of my more recent posts!
The location is a huge draw in it's current form as well.  Just across the road is locally-loved Dude Chilling Park. Head south and you can walk under 10mins to some of my own favorite spots - Savio Volpe or Les Faux Bourgeois to eat, Matchstick for coffee or a pastry and Bloom Room for the best selection and expertise for plants!
Habitat has included minimal amenities, but the type you'll want to use and none of the ones you'll get caught with hiked strata fees for. While Penthouse units may have rooftop decks, any homeowner can enjoy a cocktail on the communal rooftop. They've also built in a workspace/lounge and of course you'll have quick access to the shops downstairs. Strata fees expected around ~$0.57/sqft.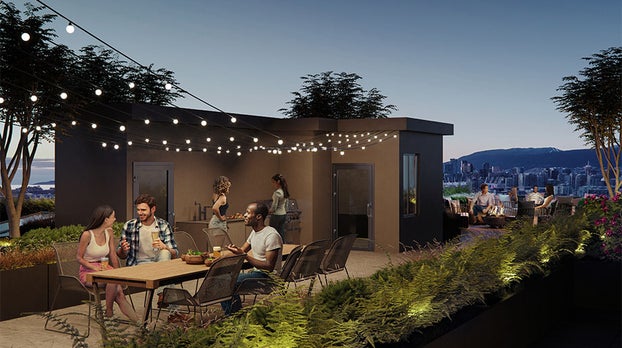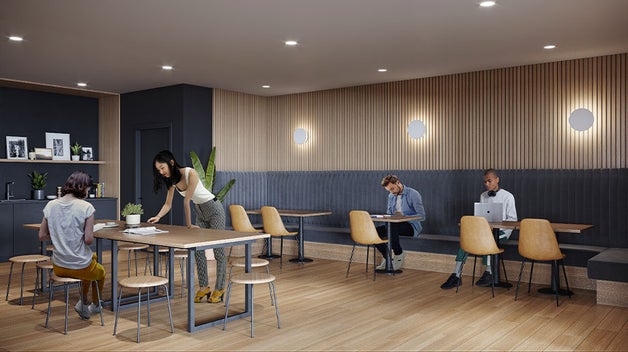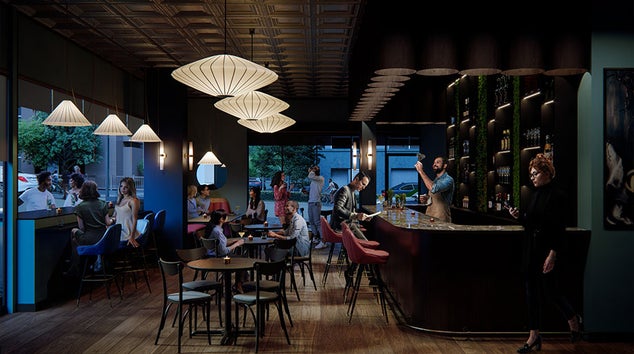 The sales team has already seen great success in sales and are over 50% sold! The best part about coming in now is the flexible deposit structures you can take advantage of (limited offering).  The selection is still wide, particularly among 1 bedrooms, but there were 1 or 2 roof-deck homes when I visited still too. Pricing and offerings change with demand, so
reach out to chat about the most updated info!


Chris Strand
chris@chrisstrand.ca
604.308.2344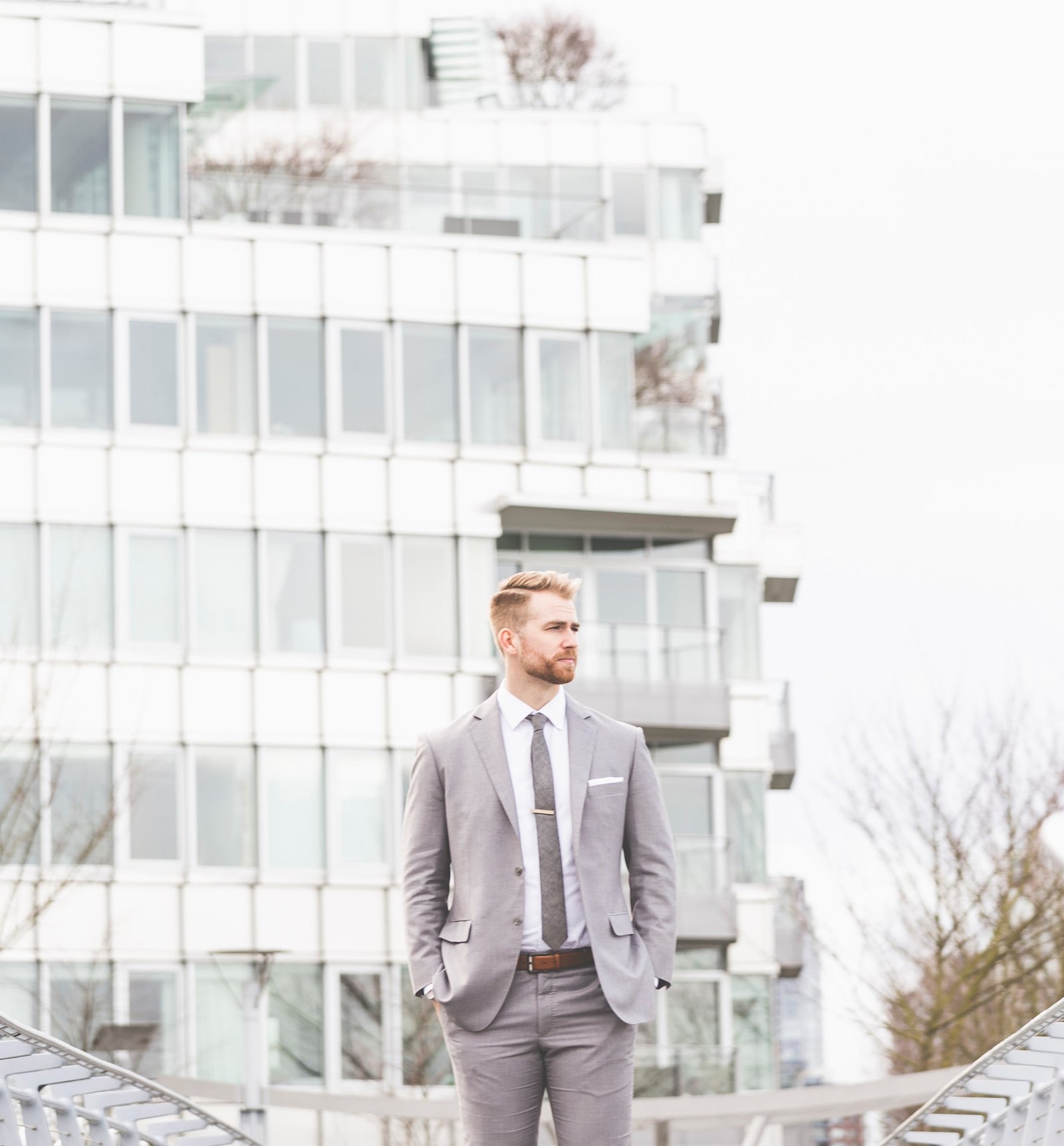 Chris is an award winning, East Vancouver Realtor with over 8 years of experience and a portfolio of over 800 homes sold across resale & new development.
Chris' successful career in real estate started in project sales, where he worked with local residential developers to market and sell new townhome and condominium buildings. His success in sales, paired with his natural ability to foster relationships stakeholders, allowed him to move into a management position as the Regional Sales Manager for one of Vancouver's top real estate sales and marketing firms. Chris worked with a portfolio of renowned developers to plan and execute sales and marketing strategies for residential developments across Greater Vancouver.
With an entrepreneurial craving to satisfy and a wealth of experience in hand, building a business to be proud of was a must. This led to joining forces with Oakwyn Realty, Vancouver's most innovative brokerage and the most organic alignment, where he helps home owners and buyers reach their goals.
Living on Commercial Drive and with deep community roots in Mount Pleasant, you'll find Chris most commonly running around the neighbourhood meeting clients or enjoying a beer and meal at one of the many loved breweries and restaurants. With a goal of matching great people with the great neighborhoods of East Van, Chris always welcomes an opportunity to meet new clients and friends.
Chris prides himself in his ability to navigate his way through any sale, making buying or selling homes a memorable and stress-free experience. Having experience negotiating the fine print on $100M+ residential developments, clients can feel confident in Chris' ability to find success in the purchase or sale of their future home.
With a wealth of experience in the industry and a passion for creating memorable experiences for his clients, Chris offers a full range of services to prospective home buyers and sellers as well as residential developers.